QUESTIONS ?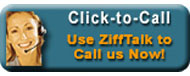 In Our Clients Own Words:
"ZiffTalk is a key ingredient in our branding and customer loyalty strategy. Our conversion is virtually 100% once they use the 'click for talk' service to speak with us."
"Reliable, Fast communications are essential to the Real Estate industry. ZiffTalk is just that and more." -Real Estate Broker
"The only one putting more overtime around here than me is our ZiffTalk link. I get calls 24 hours a day. It really works!" -B2B Industrial Product Provider,
ZiffTalk Reseller Plan Features & Benefits
* Zero Integration Time, Effort and Cost
* Training and Technical Support Provided
* Secure Sign-Up Page for Your Clients
* Complete Real-Time Account Activity Reporting on a Per-Client and Summary Basis
* Direct Billing to Clients
* Generous 20% Commissions
* Prompt Monthly Payments
* Additional Upsell Revenue Opportunities
Or Click Here to Call Us Now...
or send us an email at partners@zifftalk.com
to learn more about the ZiffTalk Reseller Program.
Who Resells ZiffTalk?
* Ecommerce Service Providers
* Web Design & Services Providers
* Interactive Marketers
* Digital Directories, Aggregators & Conglomerators